BRAVE IT!
PT Wahana Adhireksa Wiraswasta (WAW Production), established 1989, is the success behind groundbreaking past and current businesses (advertising, creative boutique, event organizer) and breakthroughs as promoter for such events like BASF Award, Citra Pariwara; International Music Concerts such as George Benson, Al Jarreau, Miami Sound Machine, El de Barge, Chicago, Iwan Fals, Swami, Kantata Takwa; also Otoblitz Crazzee Fun Day, and The Otoblitz International Classic Car Show event.
We are the powerhouse behind Media Brands such as Otoblitz – Automotive TV program since 2001 on Metro TV, with 10 million loyal audience per episode/week; Motortrend Magazine (2003); Otoblitz.net website (2015), including our Otoblitz TV on YouTube, Otoblitz TV Live Digital Streaming and On Demand Channel (2018), both on our own website www.otoblitz.net and also on Otoblitz TV Live 24 Hours. We have also been preparing our Otoblitz Buyer's Guide Magz and Otoblitz Apps that due to launch this year. We embrace changes that are spot-on in meeting both our audience and advertisers' demands and sophisticated lifestyles.
For two decades, we have pushed boundaries and limits to be the #1 name in automotive motoring through tenacity and the commitment to be the best.
Like the motoring fraternity that you are, we will continue to blaze the trail to bring you better content, while offering the most effective multi-platform media package for your Brand Message.
As our founders whom so dearly upheld our corporate credo, we have dared and we will continue to – Brave it!, in bringing you only the most cost-effective Media Plans representing Brands that matters to both our  audience and yours.
Brave it! is our Corporate Attitude in upholding audacity, tenacity and persistence that has made us one of the strongest player in the jungle of media industry today.
MILESTONE 2001-2021
OTOBLITZ TV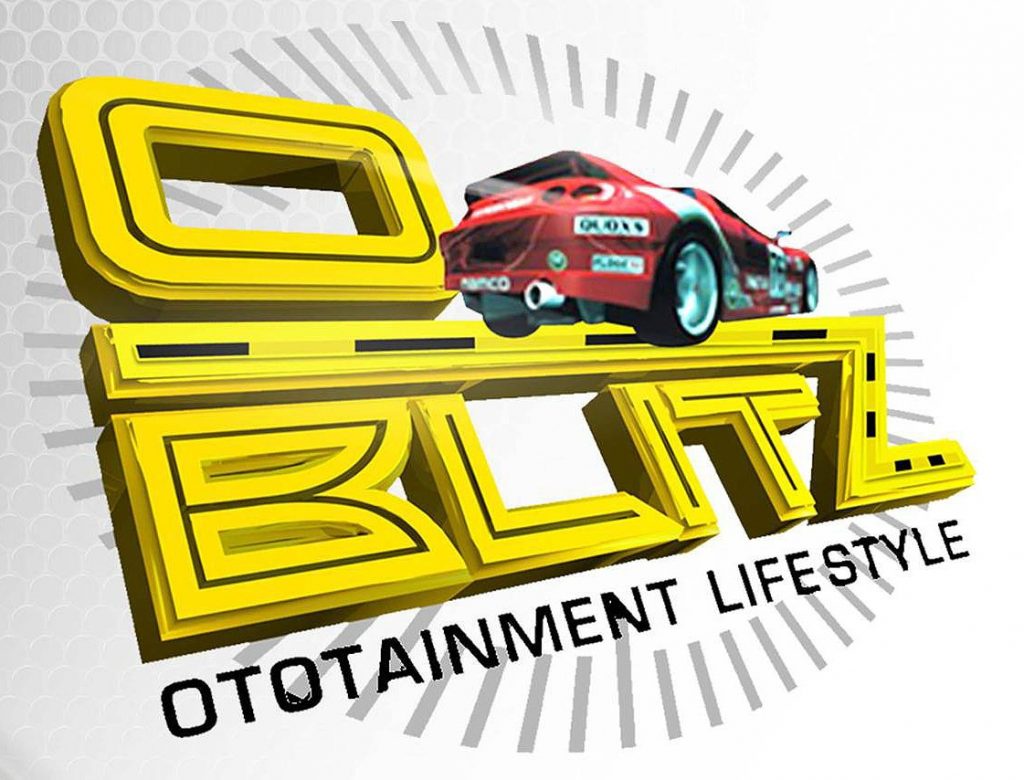 July 27 2001, the automotive program that later became number one in Indonesia: OTOBLITZ, premiered on RCTI TV station, which the following year continued to broadcast on Metro TV for more than 15 years.
With the tagline of "The First Ototainment & Lifestyle Channel", the OTOBLITZ program has aired for more than 700 episodes on Metro TV.
Presenting various information and lifestyle of the automotive world that are both entertaining and informative, OTOBLITZ is the automotive TV program with the highest rating and share in Indonesia, for the AB 20+ segment.
OTOBLITZ has been watched by more than 18,401,000 viewers from various segments (all people) during the period of 15 years; with a segmented audience (AB 20+) totaling 7,526,000 viewers who are always loyal to watch the OTOBLITZ program. *based on AC Nielsen data, Jan-Dec 2015
This generational community of OTOBLITZ viewers has always been the most important asset of our media from time to time.
MOTOR TREND INDONESIA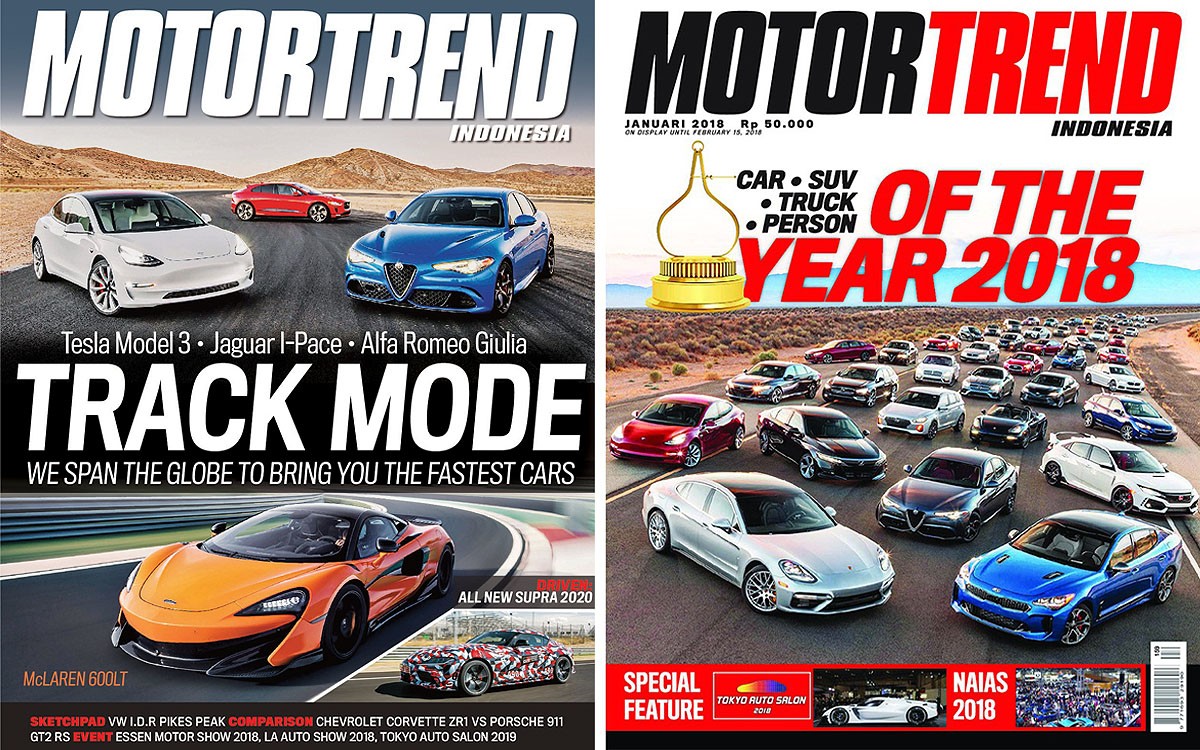 July 2003, MOTOR TREND Magazine was first launched for Indonesia, and immediately reached the highest ranking in the premium car enthusiast segment by presenting a variety of higher-end automotive and lifestyle information.
Under the OTOBLITZ MEDIA SYNERGY Management, MOTOR TREND had been made more "Indonesian" due to the demands of enthusiastic readers, to get the many information on various types and classes of the latest cars that were marketed in Indonesia.
MOTOR TREND was first published in the United States in 1949, and to this day it has become a trendsetter for various information and lifestyles for the international automotive world, with more than 3 million subscribers in the USA.
OTOBLITZ INDONESIA CLASSIC CAR SHOW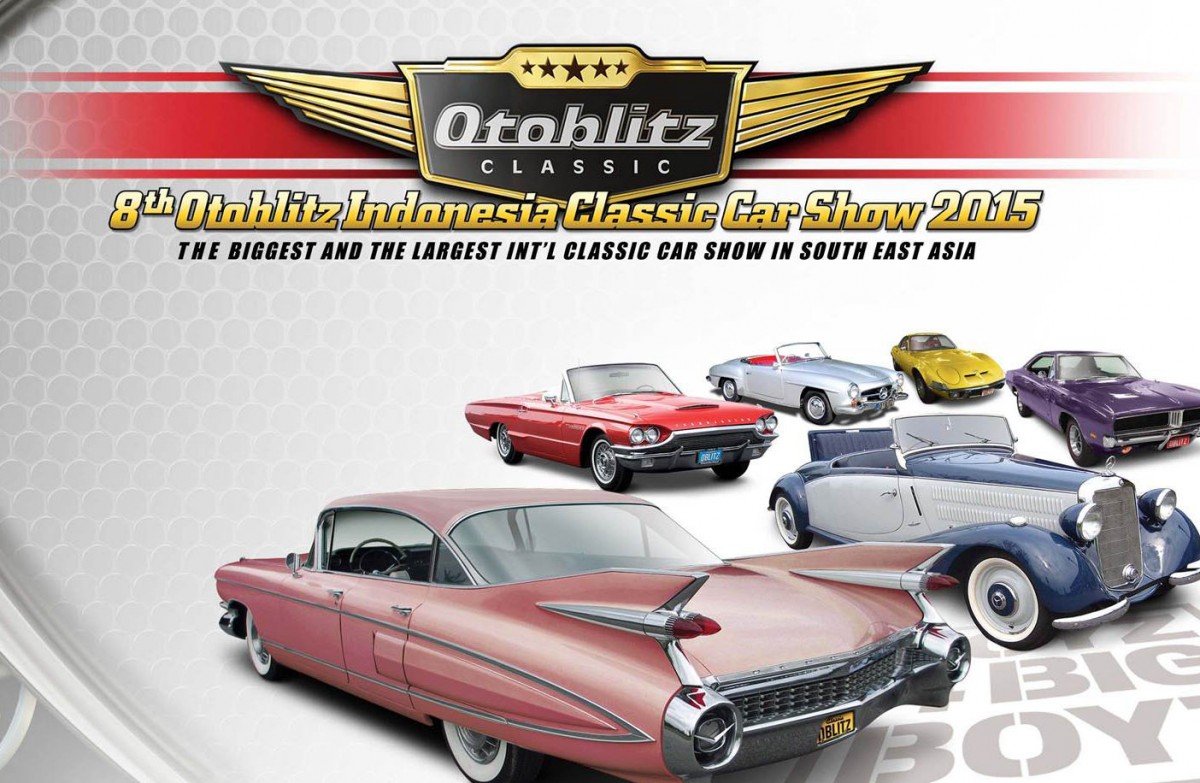 June 2007, Otoblitz Media Synergy had increasingly establishing itself as the main source of various automotive activities -especially preserving the legacy of various brands and types of cars that have existed in Indonesia for hundreds of years- with the initiation of the OTOBLITZ INDONESIA CLASSIC CAR SHOW (OICC-Show), the largest international classic car exhibition event in Southeast Asia.
For 8 consecutive years, the OICC-Show had been held involving all APMs, dozens of collectors and car clubs throughout Indonesia, witnessed by tens of thousands of visitors every time the exhibition took place, and attended by hundreds of car collectors from abroad, as well as mass media from within and outside the country.
The visitor response continued to increase from year to year, even successfully "tempted" the IIMS (International Indonesia Motor Show) to collaborate in "The 8th OTOBLITZ INDONESIA CLASSIC CAR SHOW 2015".
CLASSIC & SPORTS CAR INDONESIA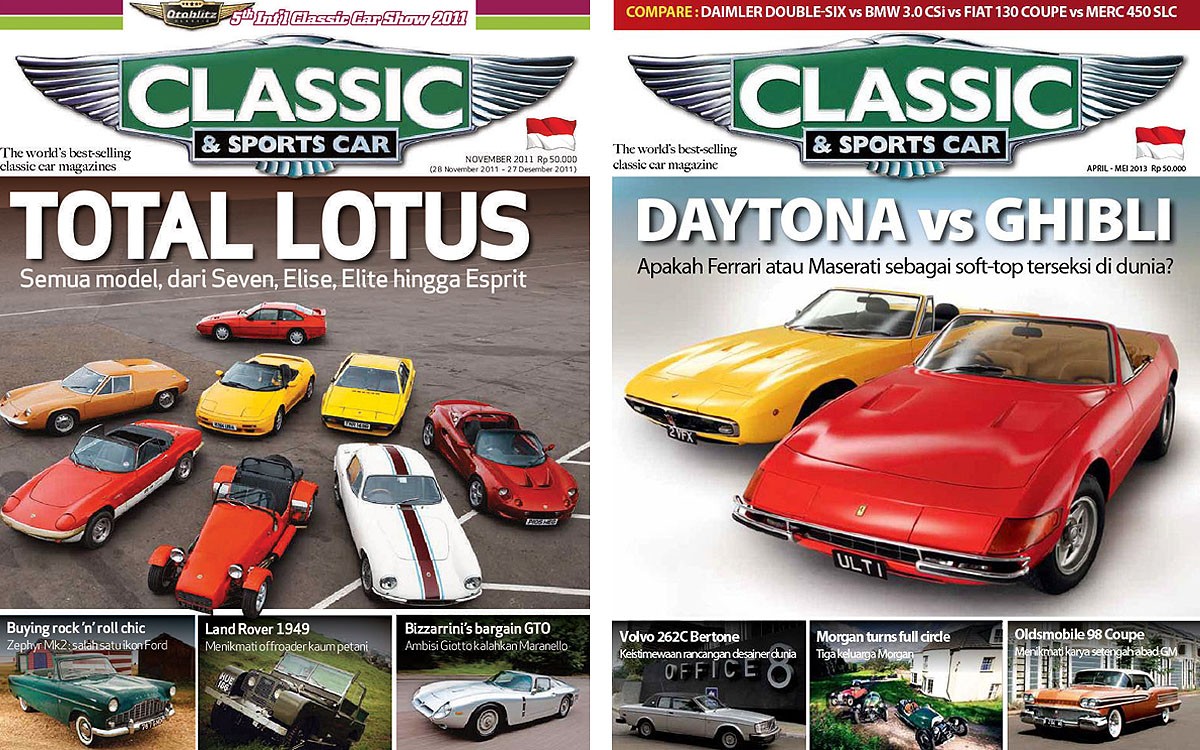 August 2008, Classic & Sports Car Indonesia Magazine was first presented at "The 2nd Otoblitz International Classic Car Show" (OICC-Show) in 2008.
Classic & Sports Car Indonesia Magazine was launched because of the booming interest of visitors and participants at the OICC-Show event, so the Management of Otoblitz Media Synergy finally decided to go to England and took a license from Classic & Sports Car magazine, which has been very well-known by classic car fans before.
Classic & Sports Car Magazine was first published in London, England, in April 1982. Until the present time, Classic & Sports Car is still the highest-selling classic car magazine, and continues to be a reference for classic car fans and collectors in various corners of the world.
OTOBLITZCLASSIC.COM

December 2013, the public's extraordinary enthusiasm for the OICC-Show finally made many people realize that classic cars are already endemic in Indonesia -and Otoblitz Media Synergy was the "virus" that transmits them.
Otoblitz Media Synergy responded with this huge public passion by launching OTOBLITZCLASSIC.COM on December 2013, as the first and only classic car news portal in Indonesia, even the best in Southeast Asia, which will eventually transform into OTOBLITZ.NET.
OTOBLITZ TV- STREAMING

Since January 2016, in line with the rapid development of information technology and digital media, Otoblitz Media Synergy has joined the Youtube channel by launching OTOBLITZ TV and OTOBLITZ TV STREAMING.
The broadcast of the two OTOBLITZ TV and OTOBLITZ TV STREAMING channels on Youtube was carried out in response to Otoblitz Media Synergy's desire to reach a wider and global audience.
The presence of OTOBLITZ TV and OTOBLITZ TV STREAMING on Youtube was also the forerunner of the company to transform into Cable TV, by presenting information about a more classy and established automotive lifestyles.
OTOBLITZ.NET

OTOBLITZ.NET is the "perfect incarnation" of OTOBLITZCLASSIC.COM, one of the OTOBLITZ MEDIA SYNERGY business units which is engaged in the "Segmented Media Mix", with focus on presenting various information and lifestyles of the automotive world, established in 2015.
For dozens of years of consistency and focus on "playing" in the automotive world, making Otoblitz Media Synergy a "reference" for automotive enthusiasts in Indonesia, has even become a trendsetter as well as a source of inspiration for other automotive mass media.
As a media synergy that focuses on presenting various information and lifestyles of the automotive world, Otoblitz Media Synergy realizes that the public's need for vehicles grows in line with their high need for the latest information on developments in the automotive industry.
OTOBLITZ.NET also did not leave behind the "roots" of OTOBLITZ, which from the beginning was known to be good at playing in the audio-visual arena. OTOBLITZ TV shows and Live Streaming containing various coverage of the latest automotive industry developments from within and outside the country, presented with highly broadcast-quality as in terrestrial TV programs; and can be accessed directly from OTOBLITZ.NET with just one click.
Complementing its perfection, OTOBLITZ.NET also pampers its visitors with entertainment offerings that both educating and entertaining. As visitors continue to browse channel by channel, they can also listen to the radio, enjoy music videos, even play many games in it.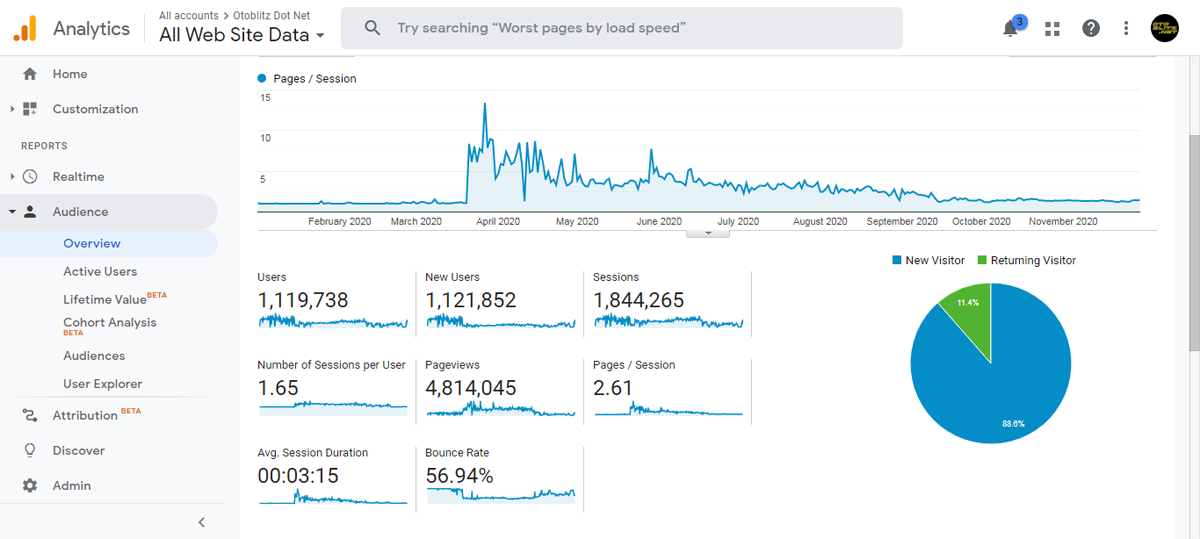 From January 2020 to the end of November 2020, OTOBLITZ.NET has been visited by 1,119,738 unique users, with 1,844,265 sessions and a total of 4,814,045 pageviews. Page per session reached 2.61 per visit with a duration of 3 minutes and 15 seconds, while the average bounce rate was 56.94%.
* data based on Google Analytics as of November 30, 2020
OTOBLITZ.NET Concept & Characteristics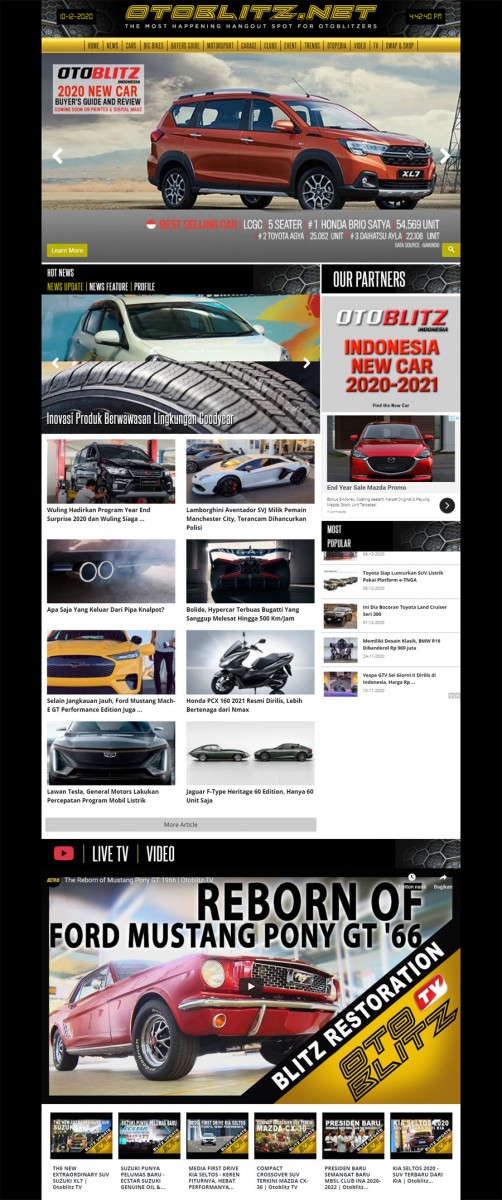 The most complete automotive portal with modern and contemporary design concepts.
Delivering the latest information on cars & big bikes, modifications, concepts, custom, to classic automotive through hobbies & passions in lifestyle, from A to Z.
Equipped with TV programs and Live Streaming containing coverage of various developments of the automotive business and industry in Indonesia and abroad, which can be accessed directly with just one "click".
The only automotive portal that owns and provides a microsite as a venue for communication between automotive clubs and communities (cars & big bikes).
The only automotive portal that "entertains" its visitors through a special Entertainment channel that contains music videos, radio and games.
Mobile Version
Not only in desktop format, OTOBLITZ.NET is also presented in mobile version which can be easily accessed from various types of smartphones and tablets based on Android, IOS, and Blackberry operating systems.
All in just one portal: OTOBLITZ.NET, The Most Happening Hangout Spot for Otoblitzers!
[otoblitz.net]